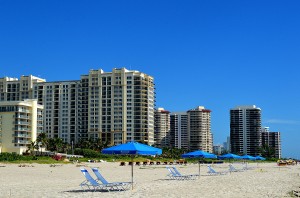 By Scott S. Bateman
Singer Island on the east coast of Florida is a little-known vacation destination that caters to people who want a quiet beach, quiet hotels and quiet everything else.
In other words, it delivers a lot of quiet. While the island itself is quiet, there are plenty of fun things to do nearby for anyone who visits Singer Island on vacation.
One reason for the lack of noise and bustle is both the types of hotels and resorts on Singer Island and its location next to the city of West Palm Beach, one of the wealthiest in Florida, and especially next to Palm Beach Island.
Someone with a strong arm might be able to slingshot a stone across the water from Singer Island to Palm Beach Island. But they might accidentally hit a $75 million mansion, which was the recent asking price for one home on the island.
These people have good lawyers. And one of the owners is Donald Trump.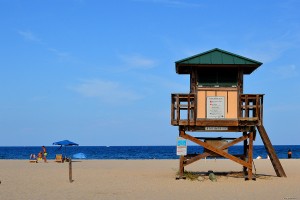 The wealth on Palm Beach also shows up on Singer Island. On a recent vacation there, a Realtor pointed to condo complexes with units that cost up to $1 million each.
The buildings looked vacant because it wasn't winter, he explained. They are simply getaway homes for wealthy northerners who want to escape from the cold winter months.
These condo complexes are the kind that have locked gates. They also have private security guards who walk out to the street and question someone who is hovering nearby and taking photos for an article.
Things to Do on Singer Island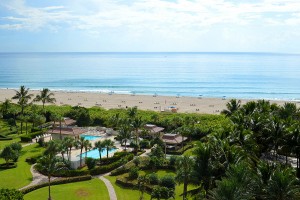 Our visit to Singer Island took place two months after a 10-day trip to Ireland and Scotland.
The island's quiet may have been more appealing after the stress of driving more than 1,000 miles around the lovely Irish countryside with few signs and narrow winding roads.
Regardless, we quickly found that the most popular thing to do on the island is spending time on the lengthy beaches. The island has nearly five miles of white sand beach with a quality comparable to some of the best beaches on the east coast of the U.S.
Another appeal of the beach was the lack of people. Anyone could find a long stretch by the warm water and call it their own without nearby sand volleyball games or blasting boombox music.
It has high potential for long, peaceful naps.
Otherwise, the island doesn't have many points of interest. One of the biggest attractions on the island is John D. MacArthur Beach State Park. It includes two miles of Singer Island beach along with nature trails, kayak rentals, a children's playground, picnicking facilities and educational programs.
The park has an entrance fee of $5 per vehicle with two or more people and $4 per vehicle with one person.
More Things to Do
As visitors go over the bridge to the island for the first time, they will see Phil Foster Park and Sailfish Marina on their left.
The marina offers various services including fishing charters or water taxis for a sightseeing tour of the Palm Beach mansions.
Some of them visit the nearby Peanut Island, which has a secret bunker built for John F. Kennedy during the Cold War. Our Realtor said Kennedy reputedly went there with Marilyn Monroe.
At the end of the bridge, the road curves to the left and becomes Route 703 / North Ocean Drive, which is the location of the hotels and resorts.
Look to the right for the island's only shopping center, known as Ocean Mall. It includes a pair of outdoor restaurants, a deli and a few shops. Right behind Ocean Mall is a city-owned beach and park.
Attractions Near Singer Island
Anyone who takes a Singer Island vacation may want more things to do. In that case, active visitors head back to West Palm Beach. The drive doesn't take long.
Attractions there include Armory Art Center; City Place, a 600,000-square-foot shopping and dining complex; the historical Clematis Street; and the Flagler Museum, the massive mansion of the co-founder of Standard Oil.
Other attractions are the Kravis Center for the Performing Arts; Lion Country Safari; McCarthy's Wildlife Sanctuary; the Norton Museum of Art; and the Palm Beach Zoo.
Shopping and Restaurants
Finding a small and quiet island like Singer has one disadvantage. It doesn't have much to offer on the island in the way of shopping, restaurants and entertainment.
Although Singer does have some restaurants, the island's many homes, condos and hotels encourage people to cook their own food. On the way to the island, just before the bridge, look to the left to see a Winn-Dixie grocery store to buy food.
It's worth visiting just to see the grocery carts with their own escalator. It automatically takes them from the first-floor grocery store to the second-floor parking garage.
Other nearby grocery stores that require a little more driving include Walmart and Publix.
Anyone who wants to eat out will find higher-end restaurants in two hotels:
Palm Beach Marriott Singer Island Beach Resort & Spa, 3800 N Ocean Drive
Hilton Singer Island Oceanfront, 3700 N Ocean Drive
Casual outdoor restaurants on the island include:
Capt Jack's Island Grill, 1146 Blue Heron Blvd
Johnny Longboats, 2401 N Ocean Ave.
Two Drunken Goats, 2509 N Ocean Ave.
Otherwise, many restaurants and shopping centers lie within one to two miles of the island in West Palm Beach. Hotels typically have a full list of options with driving directions.
Weather / Best Times to Visit
The best times to visit Singer Island are spring months for the beaches and winter months for people who want to escape northern weather.
As the Realtor explained, snowbirds like to visit their Singer Island condos during the winter, which also is popular with other visitors.
The average high temperature in West Palm Beach is in the mid 70s Fahrenheit from December through February, according to the U.S. National Weather Service. It rains about three inches per month.
Summer is both the hottest and rainiest time to go. Average highs hover around 90 degrees from June through September. Rainfall averages about eight inches in June, August and September. July averages a little less than six inches.
West Palm Beach and the rest of Florida have similar best times to go.
April is an appealing time to visit with temperatures in the low 80s and rainfall around three inches. May has higher temperatures and rainfall climbing to about four or five inches. October has temperatures in the mid 80s and rainfall around five inches.
Rainfall tends to hit hard and fast in the latter part of the day.
Hotels for Regular Folks
People with regular incomes don't have to fret about coming up with enough money to spend a week on Singer Island.
It has hotels that are quite affordable, especially during the off season from late spring to early fall.
Marriott owns several hotels and vacation club properties that rent rooms with recent rates as low as $230 a night.
The Hilton Singer Island Oceanfront/Palm Beaches Resort was advertising a room with two queen beds for $149 a night (plus $18 a night for resort fees plus taxes). Palm Beach Shores Resorts had similar rates.
Anyone with more expensive tastes can choose the likes of Crowne Plaza Ocean Front with rates above the $300 level.
The hotels dominate the beachfront. Visitors also can try for lower rates on rental houses across the street from the hotels. Some of them advertise rates as low as $127 a night. Visitors can walk 50 to 100 yards to reach the beach.
Scott S. Bateman is a professional journalist who has traveled widely along the East Coast including Virginia, Florida and the Carolinas.