By Scott Bateman
Singer Island shopping is limited to one small shopping center and a handful of related shops. Many more options are available after a short drive off the island.
Ocean Mall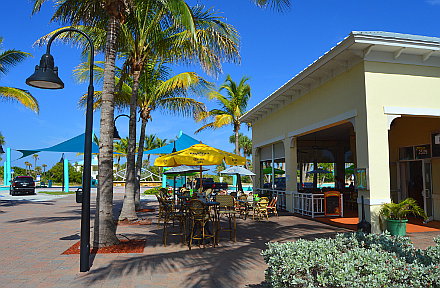 Ocean Mall is a small shopping center at the south end of the peninsula. At the curve on Route 703 when the road name changes from Blue Heron Boulevard to North Ocean Drive, look to the east toward the ocean.
It is accessible by turning onto Plaza Circle, Beach Court of especially North Ocean Avenue (not to be confused with North Ocean Drive).
The shopping center has a 7-Eleven store with ATM, a Wings Beachwear store and three restaurants: Two Drunken Goats, Johnny Longboats and N.Y. Bagels & Deli.  Two Drunken Goats are casual restaurants with American cuisine and outside seating.
Grocery Stores
The larger number of condos, vacation clubs and hotels with kitchenettes make it convenient and budget friendly for Singer Island visitors to shop for groceries. Publix is the nearest grocery store is located right over the bridge on the north side of Blue Heron Boulevard at 228 E Blue Heron Boulevard.
Singer Island has two small food marts at 7-Eleven, located in Ocean Mall, and Grator Gator Food Mart at 1245 Blue Heron Boulevard.
Major Malls and Shopping Centers
The Gardens Mall at 3101 PGA Boulevard is an upscale shopping development with more than 160 restaurants and specialty shops. The anchor stores are Macy's, Sears, Bloomingdale's, Nordstrom, and Saks Fifth Avenue. Take Route 703 / A1A north until it curves west, crosses back into West Palm Beach and becomes PGA Boulevard. The mall will be on the right.
Palm Beach Outlets is an outlet mall at 1751 Palm Beach Lakes Boulevard in the southern part of West Palm Beach. Take the Blue Heron Boulevard bridge and go west to I95, then south to Palm Beach Lakes Boulevard.