By Scott Bateman
Singer Island's average monthly weather has high temperatures from the mid 70s Fahrenheit in the winter to 90 in the summer. Rain is highest in the summer.
Singer Island is located just off the coast of West Palm Beach and experiences the same weather patterns.
Summer is both the hottest and rainiest time to go. Average high temperatures hover around 90 degrees from June through September, according to 30 years of data from the U.S. National Weather Service.
The hottest months of the year also are the rainiest months of the year for the island.
From December through February, the average high temperature in West Palm Beach stays in the mid-70s. Nighttime lows often reach into the 50s.
The nighttime lows will make water temperatures too cool for swimming for most of the months from mid fall through late spring.
Average Rainfall
Florida sees a spike in rain during the Caribbean hurricane season, which runs from June through November every year.
Singer Island rainfall sees a similar spike. The wettest monts are June through September.
Rainfall averages about eight inches in June, August and September. July averages a little less than six inches.
The driest months on the island are December, January and February with an average of about three inches a month.
Rainfall tends to hit hard and fast in the latter part of the day.
Best Times to Go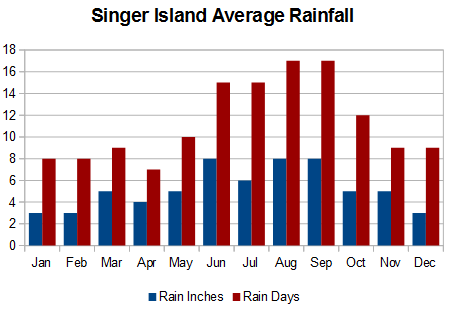 West Palm Beach and the rest of Florida have similar best times to go.
They are April with temperatures in the low 80s and rainfall around three inches, May with higher temperatures and rainfall climbing to about four or five inches, and October with temperatures in the mid-80s and rainfall around five inches.
The worst times to go are the summer months when rainfall hits the highest point of the year.